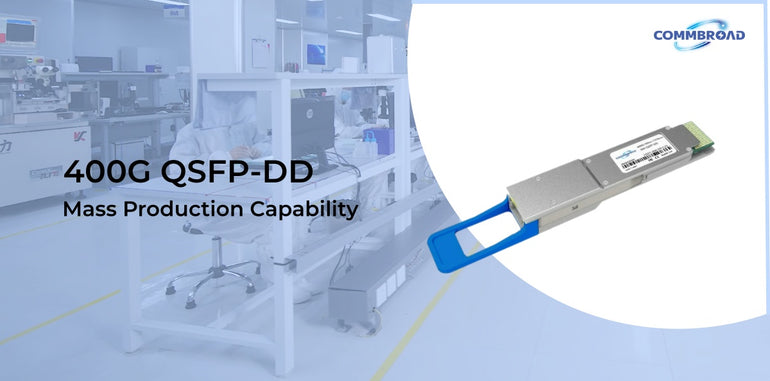 Tim Yang, CEO of High-speed optical chip and optical module supplier Ningbo Commbroad Optoelectronics Technology Co., announced the commencement of mass production of 400G/800G silicon photonic modules based on the company's self-developed chip platform.
Commbroad introduced the growth of the company's core competencies in his speech, including the vertical integration capability from silicon optical chip to module, the mass production of high-performance products, and the progress of the construction of the super manufacturing plant.

Since 2023, with the global popularity of the artificial intelligence application ChatGPT, the era of artificial intelligence has officially begun in the world. NVIDIA's latest GH200 Grace Hopper super chip and DGX GH200 supercomputer system, with their powerful computing performance and communication hardware, empower AI and data center development. It can be expected that the demand for AI computing power is becoming a new growth driver for the optical communication technology industry in addition to the traditional cloud service demand. The demand for 400G/800G optical module devices, as one of the key hardware for AI arithmetic performance, is gradually exceeding industry expectations.

With AI, cloud computing, and Internet traffic driving the high-speed optical module market approaching a climax, on the issue of how to seize market opportunities in time for optical communication products, Tim believes that sufficient manufacturing capacity and vertical R&D capabilities are the keys to securing the core competitiveness of enterprises and winning market share.

In terms of manufacturing, Commbroad Optoelectronics Technology Co. is equipped with a Chip-to-Transciver production system. For optical chip design, Commbroad's patented Hyper Silicon™ chip technology enables the development of PIC (photonic integrated circuit) and AWG (planar optical waveguide) chips with lower loss and higher bandwidth. For chip manufacturing, Commbroad cooperates with the world's leading SiPh (silicon optical) wafer company for unique SiPh wafer and chip post-processing. For chip packaging and optical module production, Commbroad has the capability of automated coupling and testing to complete optical chip packaging through proprietary optical component design and development, followed by mass production of optical modules through a low-cost, high-reliability COB packaging production line.

In terms of R&D, Commbroad has established a vertical R&D system from silicon optical chip to silicon optical module, including four design platforms, which are AWG wavelength division optical device chip design platform, quad/eight channel optical engine/module design platform, silicon optical device chip design platform and DSP chip design platform. At present, Commbroad has completed the application of key technologies for 800G-1.6T, such as device 3D modeling technology, optical coupling/optical device/device high-speed signal simulation technology, high-speed PCB wiring design technology, etc. Commbroad has the technical capability to produce all aspects of optical modules and is able to continuously promote product updates and iterations.

According to Tim Yang, Commbroad combines all technology features into the Hyper Silicon™ solution, which offers eight advantages:
● The PAM4 self-developed platform minimizes price per gigabit and maximizes bandwidth density and scalability.
● Discrete TX & RX PICs reduces cost by 30% vs. integrated TX/RX PIC.
● Differentially driven modulator provides high modulation efficiency & supports Serdes direct drive.
● High bandwidth MZ-Modulator plus dynamic bandwidth tuning supports up to 200G/lane.
● SiN edge-coupler supports high input power up to 20dBm without non-linear effects.
● Highly automated production – every process from chip backend to module test is automated
● Manufacturing Execution System (MES) continuously monitors process statistics.
● 120,000sqft Gigafactory will respond rapidly to surges in demand.

In terms of Hyper Silicon™ PIC technology, Tim Yang further introduced that Commbroad's engineering team comprised of international pioneers of this industry. The R&D team has accumulated more than 35 years of SiPh design experience, over 30 mask tape-outs and successful SiPh device design history on AWGs, Coherent PICs, 4x25G PSM4. The Hyper Silicon™ PIC developed by the Commbroad team is designed for mainstream market applications such as 400G DR4, 800G DR8/DR4, 1.6T DR8, etc. It achieves 53.125Gbaud with a 4.5dBhigh extinction ratio and extremely low on-chip loss (<9dB) through the use of edge coupler design supports low loss fiber array or lens coupling to achieve extremely low on-chip losses (<9dB). The Hyper Silicon™ PIC-based 400G DR4 optical module leads the industry in TX power, extinction ratio, TDECQ and RX sensitivity (OMA).

In terms of product development and planning, Commbroad's Hyper Silicon™ PAM4-based 400G DR4/800G DR8 and coherent 400G ZR/ZR+ modules were officially mass-produced in Q1 of this year, and a direct-drive version of the product is expected to be available for sampling in Q2 of next year. It is worthwhile to expect that the 800G module demos are being promoted to the market and some of them are expected to be in mass production next year. In addition, Commbroad's production line in Ningbo has completed the construction of the R&D and manufacturing platform from chip to module. The super factory in Anhui will be completed in the second quarter of this year, which will achieve an annual capacity of 750,000 high-speed optical modules, covering 400G/800G and 1.6T products, and will seize the opportunity to win the opportunity to upgrade the high-speed optical module market.